True Tai Chi serves your whole being in a way which few people know or recognise in our modern world.
My aim is to make the depth of knowledge passed down through the art of Tai Chi available to you and all who are committed to developing in a healthy, natural way.
By practicing and ultimately embodying the principles in Tai Chi, you start to manage your own well-being.
In truth, this is the beginning of an inner journey; a very practical, measurable way to reclaim your own power of spirit: your essential creative ability.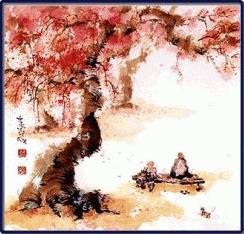 A General Intro To Tai Chi
The slow movements of Tai Chi are graceful, powerful, relaxed, balanced, and meditative. Developed in China over a thousand years ago, this form of exercise unites the mind and the body, combining aspects of meditation, exercise, visualization, and martial art. Once learned, a Tai Chi form may take ten minutes to perform. Done once or twice daily, it provides extraordinary health benefits, improving balance, flexibility, and strength, while calming the spirit and reducing stress.
About The Tai Chi Form
The art of Tai Chi (actually called T'ai Chi Ch'uan, "Yin Yang Boxing") consists of perfecting several skills. The most fundamental of these is the Tai Chi form, a classical series of movements which the student memorizes, much like a music student might memorize a classical piece of music. Once the movements are memorized, the real work of refining the movement can begin. The study focuses on the subtleties of relaxation, breathing, and body alignment. Movement is caused by internal pressure changes rather than muscular tension.
The mind must be flexible, so the body will be supple.
With long term study, good Tai Chi takes into account not only the laws of physics, but the mysteries of the heart and mind. Fear and anxiety cause tension, which is felt in the body. If we can undo the tension, we can begin to undo the fear and anxiety. At an advanced stage, the fear associated with ego can be abandoned.
About Tai Chi Tui Shou, or "Push Hands" exercises
The Push Hands exercises also help us deal with fear in the use of Tai Chi as a martial art. After achieving a state of deep relaxation in the Tai Chi form, students may try to bring that calm feeling into the practice of push-hands, the two person Tai Chi exercise for the development of martial sensitivity. Initially, this two person exercise can be extremely gentle, allowing the practitioners to operate in the most relaxed and efficient manner. Sometimes using the classical movements, sometimes in a freestyle manner, partners take turns searching out points of tension on each other. When a point is found, the student must learn how to relax the tense area in order to avoid losing balance. Over time, by learning correct and effective ways of relaxing and moving, one is able to absorb sudden and forceful pushes from one's partner with a minimum of tension and fear. The relaxed body aligns itself automatically to retain balance.
Friday 6.30 8.30 Advanced class,form and push hands 52 Mt eden road Auckland ph 09 8289800 All welcome